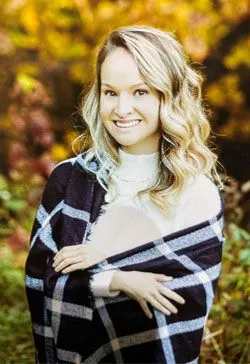 Dr. Alex Warden-Michl, PT, DPT

Dr. Alex grew up in the Midwest and received her Doctorate of Physical Therapy from Bradley University in Peoria, IL.
For the first 5 years of her career, she specialized in neurological rehabilitation with a focus on treating people with Multiple Sclerosis and Parkinsons disease. She quickly realized that many of her clients suffered from pelvic pain and bowel/bladder dysfunction in addition to their neurological impairments. She decided to expand her expertise by becoming certified in treating pelvic floor dysfunction in order to better serve this population.
Since that time, she has become fully immersed in the pelvic health world. She has helped many people meet their goals by taking a whole-body approach to treatment. She feels it is important to consider all aspects of pelvic dysfunction including lifestyle factors, stress, and orthopedic or neurological impairments. She enjoys treating a variety of people from all walks of life but has special interests in helping the post-partum population, those looking to return to sports, and those dealing with chronic pain/disease.
In her free time, Dr. Alex enjoys traveling and hiking with her family. Her bucket list items include visiting all US national parks, running a marathon, and completing a medical mission trip abroad.